Tekst04-10-2017
Spectators from 22 countries are ready to join LEN European Short Course Championships in Denmark
By: Anna Marie Birkbak
The stands at Royal Arena in Copenhagen are slowly but steady getting crowded with all kinds of country colours. Recently, swimming fans from Turkey and Slovakia purchased tickets for the LEN European Short Course Championships 13th-17th of December, which makes the amount of countries coming to cheer for the swimmers a total of 22.
- We are thrilled to see swimming fans from that many countries coming to the championships. To have no less than 22 countries on the stands makes us proud of the reach the event has acquired throughout Europe, but it also makes us eager to stretch even further regarding quality and experience. We want to make it a world class event, says event manager Mads Bang Aaen.
The 22 nations represent all parts of Europe stretching from Spain to Russia. More than 17 % of the tickets are currently sold to fans from outside of Denmark!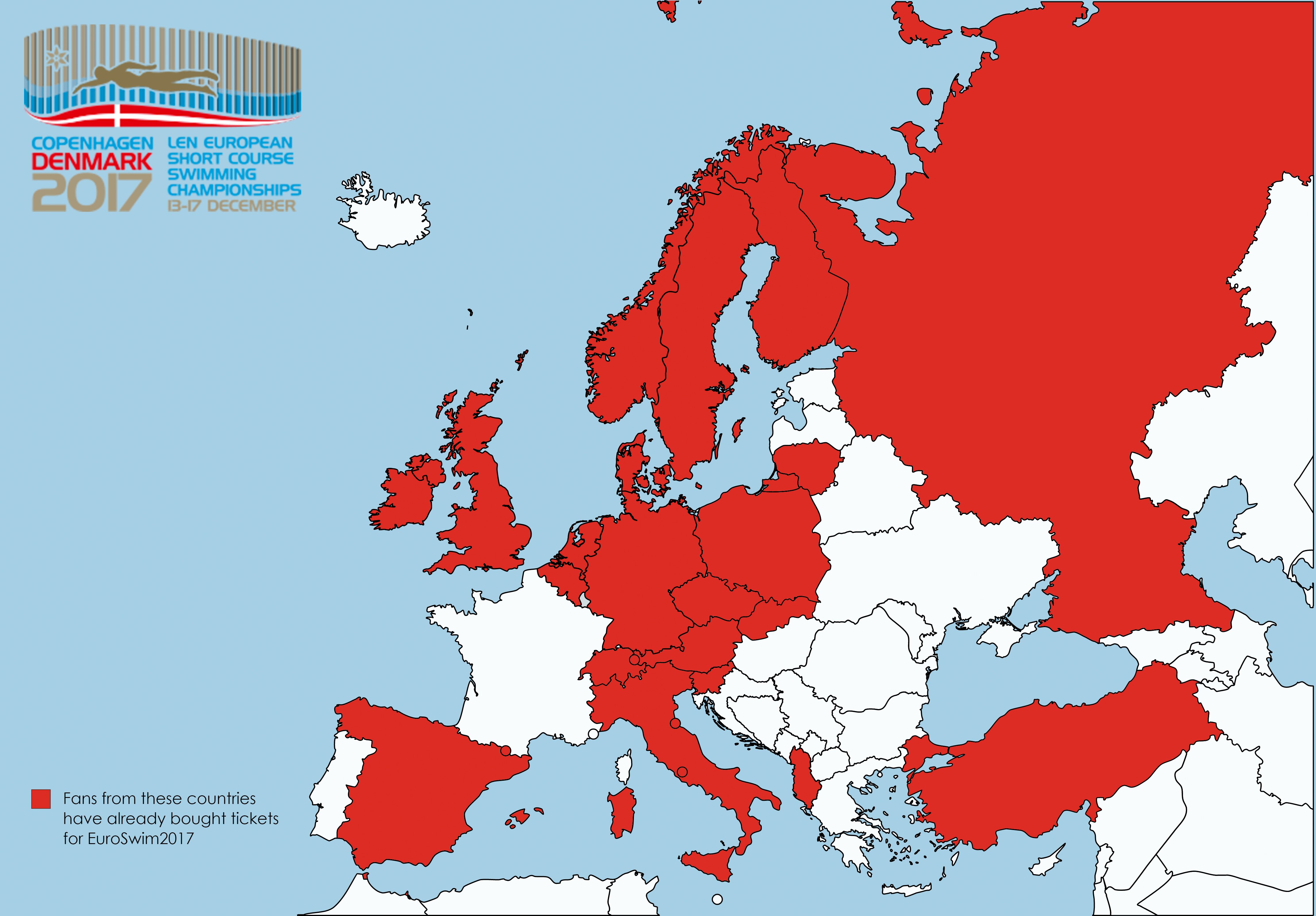 A detailed map of the fan nationalities coming to the championships.
- It makes us so pleased to see the interest from all over Europe for these championships in Copenhagen. We can't wait to see all the flags on the stands and hear the crowd cheer for their swimmers. No doubt it's going to be a very exciting championship with so many swimming fans taking part, says Mads Bang Aaen.
In the coming months, the EuroSwim-team expect to see more fans from outside of Denmark joining in. And when it comes to the athletes, the number of participating countries in Copenhagen is already higher than four years ago when Denmark last hosted the LEN European Short Course Championships in Herning in 2013.
Want to be a part of the swimming party? Get your tickets at www.ticketmaster.dk/swim.