Getting to Royal Arena
There are many ways of getting to Royal Arena. If you arrive in Copenhagen Airport (Lufthavnen) and need to go directly to Royal Arena, we suggest you take a regional train to Ørestad Station. You buy the train tickets in the Arrival Terminal at the airport at designated ticket stalls - and walk straight to the train platform from there. Read about timetable and prices on the Danish Journey Planner.
If you need to go to your hotel or other accommodation in the city first, we suggest you take the metro. You can read all about getting from the airport to the city by metro on the Metro website. You can walk straight from Arrival Terminal and to the metro station (Lufthavnen). Check out the train map below: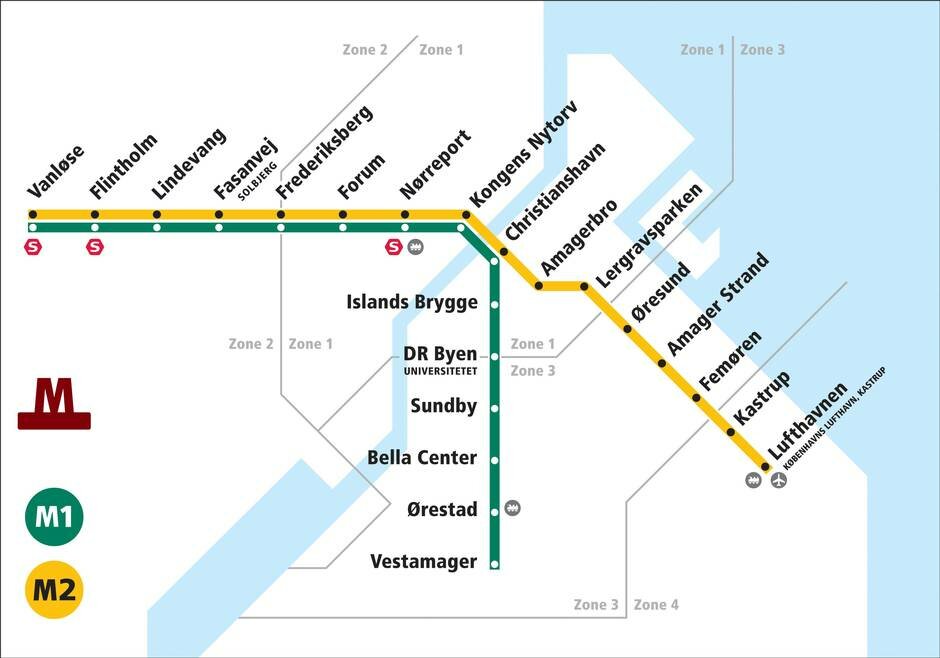 The metro runs throughout the day and night. Therefore, you can easily use it to get to and from Royal Arena during the championships. You can get off at Ørestad Station and walk to the Arena within 5 minutes, and the trip back to the city centre is 12-14 minutes.
We recommend not using a car, as there are a limited amount of parking spaces close to the Arena. If you do arrive by car, please refer to the Royal Arena website for parking options.
If you are coming from either Sweden (for example Malmö) or Copenhagen, you can also use the "Øresundstoget", which is not a part of the Metro line but runs between Denmark and Sweden. See more on the Danish Journey Planner or the English website for Øresundstoget. With this train, you will also arrive at Ørestad Station.
Another option is to bike to Royal Arena, but it is 25-35 minutes from the city centre (Nørreport). If you want to try out the famous bike paths along with the thousands of other cyclists in the city, you can easily rent city bikes several places throughout the city. Check out Copenhagen Bike Rental.