Tekst21-09-2016
LEN European Short Course Championships 2017 reveals official logo
By: Nora Thomsen
The logo for LEN European Short Course Championship 2017, to be held next year on the 13 to 17 December in Royal Arena in Copenhagen is now revealed. 
With the revealing of the logo an important part of the puzzle, when it comes to the visual expression for next year's European Championships in Denmark, has fallen into place. With this, the visuals of the championships are beginning to take shape.
LEN European Short Course Championships 2017 will be the first sport event in the new multi arena of Copenhagen, Royal Arena. When the championships takes place, two temporary pools will be built in the arena, in which up to 600 participating athletes from 45 countries will fight for honor and medals.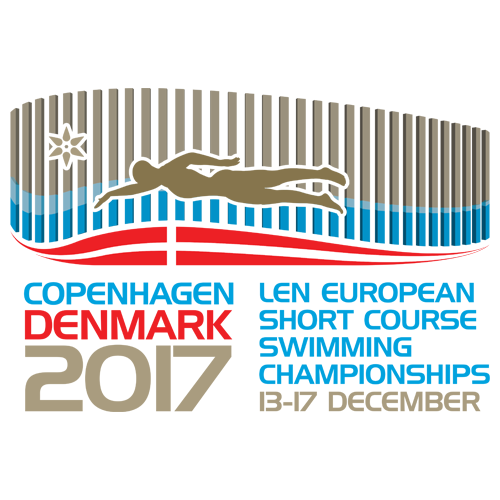 "With our new logo we have a goal of making it easily recognizable that the event takes place in Denmark. Apart from that, we would also like to visually communicate, that the event takes place in Royal Arena, and that it temporarily will be filled with water, which is quite special. We are looking forward to giving the championships a visual identity and to brand and market the championships both nationally and internationally," says head of event, Mads Bang Aaen, who adds:
"When it comes to logos and design in general, there is seldom anything that is completely right or wrong, your opinion matters just as much as the next ones. Of course, we hope that people will welcome our logo and that they find it nice. It is important that people can recognize that the championships are staged in Denmark and Royal Arena through the logo"
Tickets for LEN European Short Course Championships 2017 are expected to go into sale during the autumn of 2016. When Royal Arena is modified to host a short course swimming event of this caliber with two pools, it is expected to have a capacity of about 6,500 spectators who will help create a fantastic atmosphere for the best swimmers in Europe.
LEN European Short Course Championships 2017 is hosted by The Danish Swimming Federation and their partners, Sport Event Denmark, Municipality of Copenhagen, The Capital Region and Wonderful Copenhagen.
The logo is developed in cooperation with design and graphics company, Formegon.
For further comments on LEN European Short Course Championships 2017 please contact head of event, Mads Bang Aaen on telephone or e-mail